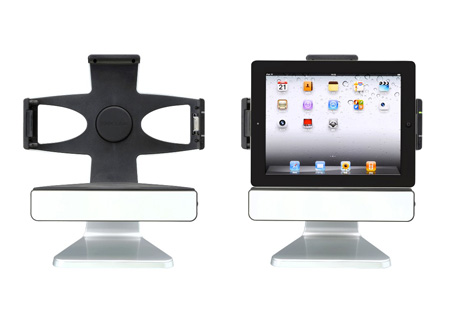 Development of PadDock 10TM "VP3650" (Ver.2) Speaker Dock Station for iPad2


We are pleased to announce that we have developed and will release a Speaker Dock Station for the iPad2 in August, 2011, which is the follow-up to the "PadDock 10TM" Speaker Dock Station for iPad released in December, 2010.
This product changes the attachment structure to fit the size of the iPad2 unit, which is thinner than the iPad.
Similar to the original model, this product can be used as a speaker when playing music and video on iPad 2; can recharge the main unit; and can be synchronized with iTunes when connected to a computer.
Integrated with the stand, the speakers have a stylish design similar to a desktop computer.
The product adopts a speaker layout that maximizes indoor reverberation, providing a rich sound for listeners. Despite its compact size, it achieves an energetic bass reproduction.
We are planning to sell this product mainly via the outlets listed below.
(Outlets) Electronics retail stores and Internet mail order companies.
Note: iPad 2 is not included with this product.
This product has been certified by Apple Inc.
iPad and iTunes are trademarks of Apple Inc. that are registered in the United States and other countries.
Date Released
Aug. 11, 2011
Press Release No.
932fc
Product Name
PadDock 10TM [RCPA6]"VP3650" (Ver.2)
Features

1)Charge mode: can charge iPad
(USB charging cable is included)
2)Sync mode: can be synchronized with iTunes
(mini USB cable for computer connection is included)
3) Stand rotation function: rotates 360-degrees, locks at increments of 90-degrees and supports switching between vertical and horizontal screen
4) Installed with a tint function enabling the iPad screen to be adjusted to an easier to view angle.
*Angle adjustment is possible from 0-degree to a maximum of 30-degrees.
Major specifications




Size
26.4cm (W) × 14.5cm (D) × 30.0cm (H)
Weight
Approx. 1.4kg
Power supply
DC5V voltage, 2A (Max.) current
Speaker
5W output (2.5W × 2)
Accessories
USB charging cable, mini USB cable
Planned number of units to be sold
1,000 units per month
Market Introduction
August 2011
Inquiry
* For more information, please contact the FC Division.