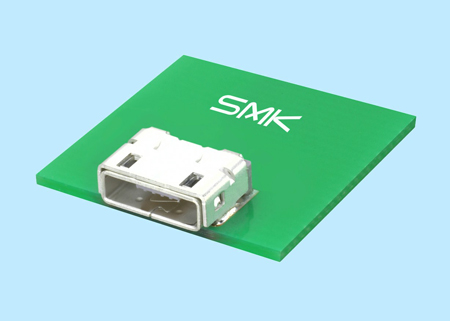 Release of a "Micro USB Connector (Strong type)" with our unique structure ensuring increased resistance to twisting force
We are pleased to announce we have developed and released a Micro USB (Strong type) interface connector.
This product features our unique dual shield case structure to deal with connector strength problems due to the miniaturization of connectors in recent years. This structure strengthens twisting force deformation resistance by approximately twice more than our existing products, contributing to increased reliability.
The dual shield case structure not only provides a relief structure between its external and internal sides and features a structure to prevent vertical and horizontal displacement. Further, this product features a flux prevention mechanism inside the plug insertion hole which removes the need for internal internal notches and holes by placing the mounting foot in the external shield case.
To respond to needs for the increased compactness and thinness of equipment, we have developed a low-profile product with a mounting height of 2.80mm.
This product is compliant with USB standards (Revision 2.0).

Date Released
Sep. 16th, 2011
Press Release No.
934cs
Product Name
Micro USB Connector (Strong type)
CSS5305-6602F
Features

1) Compliant with USB standards (Revision 2.0)
2) Features a dual cell structure, contributing to even higher resistance to twisting force.
3) Features a flux prevention mechanism.
4) A low-profile and space-saving model with dimensions of 2.8mm (mounting height); 7.9mm (width), and 6.2mm (length).
5) By providing adsorption space, it handles automatic mounting.
6) RoHS compliant product.
Major Specifications



Voltage and Current Rating
DC 5V 1.8A(power supply section)
Contact Resistance
Contact Resistance
Initially 30mΩ max.
Insulation Resistance
DC500V 1 minute later, 1000MΩ min.
Withstanding Voltage
AC500V 1 minute later
(However, there are no abnormalities, such as an arc and dielectric breakdown)
Operating Temperature Range
-30℃ to +80℃
Operating Life
10,000 times
Applications
Mobile phones, smartphones, PDA and other mobile equipment
Production Capacity
500,000 units per month
Inquiry
* For more information, please contact the CS Division.