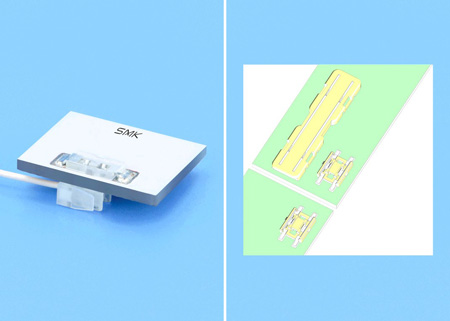 Development of Two New Connectors for LED Lights

We are pleased to announce the development of two new types of connectors for LED lights.
These additional products consist of a connector for facility lighting, base lights and line lights, and another connector for LED fluorescent lights.
Safety and heat resistance were fully taken into account when designing these products in compliance with the same IEC standards as existing products and with the Electrical Appliance and Material Safety Law.
【Facility lighting / base lights / line lights】
"LT-6 Series":
The plug connector is mounted on the LED mounting board and the socket cable is connected from the rear side of the PWB. Connecting a cable from the LED mounting boards and the power control board improves wiring freedom as well as allowing it to be mounted on the LED board.
This product is designed to avoid shielding LED light by lowering the profile of the connector.
【LED fluorescent lights】*Also supports specifications besides fluorescent lights.
"Space-saving 2P Bridge-Type Connector":
A space-saving and low-profile 2P connector with a mounting height of 1.4mm, designed to connect LED boards used inside LED fluorescent lights, etc. A top entry mating structure is used for the plug, contributing to improved operability.
The connector can handle positional gaps and PWB linear expansion with its floating structure which can absorb ±0.5mm from X, Y, and Z directions.
It is expected that there will be a rapid increase in demand for LED light connectors in the future.
This product was exhibited at the integrated IT and electronics exhibition, "CEATEC JAPAN", which was held from October 4th this year, and we intend to proactively develop sales activities for this product in the future.
【Profile of LED Lighting Products】
| | | |
| --- | --- | --- |
| Product | LT-6 series | Space-saving 2P Bridge-Type Connector |
| External appearance | | |
Date Released
Oct. 06, 2011
Press Release No.
937cs
Product Name

LED Lighting Connector
(LT-6 Series/ Space-saving 2P Bridge-Type Connector)
Features
1) The design complies with IEC standards and the Electrical Appliance and Material Safety Law.
2) Safety is emphasized by securing creepage distance.
Major specifications

Voltage and current rating
AC/DC 100V/1A
Operating Temperature Range
-40℃ to +105℃
Creepage Distance
1.2mm or more (LT-6 Series)
1.5mm or more (Space-saving 2P Bridge-Type Connector)
Applications
LED lighting, LED lamps, LED fluorescent light
Production Capacity
300,000 units per month
Inquiry
For more information, please contact the CS Division.