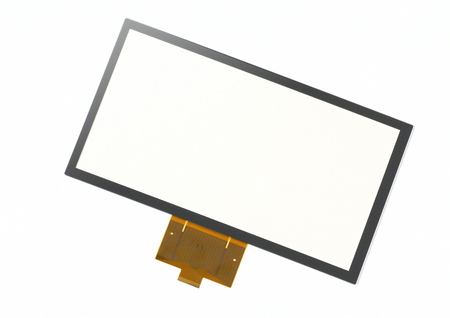 Development of a Middle Size Capacitive Touch Panel that Supports Multi-Touch Input

    
We are pleased to announce that we have developed and started taking orders for a 7 to 11.6 inch middle-size capacitive touch panel that supports multi-touch and gesture input.
This product was developed for tablet terminals and information terminals that handle electronic books.
Sophisticated information devices called tablet terminals sized from 5 to 10 inches emerged in line with the increased popularity of smartphones in the touch panel industry. Also, the spread of tablet PCs as information terminals that handle cloud services and electronic books is expected to advance greatly.
For such uses, "thinness, lightness, and robustness" are greatly demanded qualities.
This product changes the structure of sensor panels from standard glass-types to film-types, contributing to the increased thinness and lightness of touch panels. Further, the decorative laminate bonded on the sensor panel is compatible with both exceptionally strong glass panels and light plastic panels, and we have made preparations to supply modules with a bonded decorative laminate and sensor panel.
In addition, the highly-transparent as well as clear and colorless visual quality and highly-sensitive input developed for smaller sizes has been realized also for medium-sized models in an attempt to improve operability.
We intend to develop this thin, light and easy-to-use device for a wide variety of uses.
This product will be exhibited at the flat panel display integrated "FPD International 2011" exhibition to be held from 26th October.

Date Released
2011/10/24
Release No.
938tp
Product Name
Middle Size Capacitive Touch Panel
Supported sizes: 7 to 11.6 inches
Features
1)Using a film/film-type sensor contributes to the increased lightness of equipment.
2) Enables 10 finger multi-touch input.
3) Can be operated by using gestures such as flicks and pinches.
4) Its highly-sensitive detection allows it to be operated by fingernail.
Major Specifications
Read method
Projection-capacitive system
(mutual capacitance system)
Working load
Zero N(responds to touch area of φ8 or more)
Applications
Tablet terminals, e-book readers, PCs, etc.
Production Capacity
100,000 units per month (10-inch models)
Inquiry
For more information, please contact the TP Division