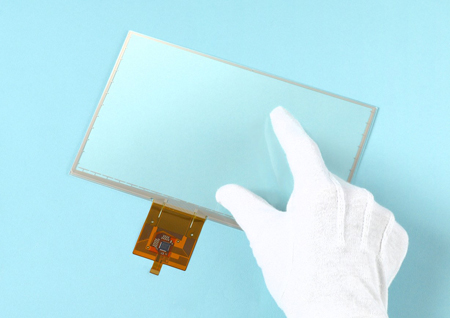 Development of an Automotive Capacitive Touch Panel that Allows Input when Wearing Gloves

    
We are pleased to announce that we have developed and started taking orders for an automotive capacitive touch panel (mutual capacitance system) that allows input even when wearing gloves.
This product was developed with cold climates in mind, where gloves will be worn while driving.
Often used in smartphones, capacitive touch panels are also attracting attention for automotive uses due to their widely accepted light operating feel and easy-to-use qualities. However, developing a touch panel that allows input while wearing gloves has proven to be difficult to date.
This product reduces incorrect operation as much as possible due to noise and realizes highly-sensitive sensing. This is achieved through the use of an IC that supports highly-sensitive detection and by establishing a sensor panel structure with high noise tolerability. As a result, these new features have enabled input while wearing gloves. In addition, it is easy to operate by fingertip even with its 1.5mm-thick decorative plastic laminate, supporting a wide variety of stylish configurations and designs required for the operating portion.
Further, it has been cleared for use in harsh temperature environments required for automotive use.
By introducing a product that supports various users' input styles and design requirements, we are meeting the automotive industry's ever increasing demands for capacitive touch panels.
This product will be exhibited at the flat panel display integrated "FPD International 2011" exhibition to be held from 26th October.
Date Released
2011/10/25
Release No.
939tp
Product Name
Capacitive Touch Panel for Automotive(Mutual Type)
Features
1)Compatible with standard automotive specifications.
2) Allows input while wearing gloves.
3) Attaching a design film enables a full-flat structure.(1.5mm or more)
4) Features a maximum of 10 input points.
5) Can be operated by flicking the touch panel and drag-and-drop input is possible.
6) A screen size of up to 8-inches is available.
Major Specifications
Reading system
Capacitive system (projective type, mutual
capacitance system) 
Working load
Zero N (responds to touch area of φ8 or more) 
Operating Temperature Range
-30℃ to +85℃
Storage Temperature Range
-40ºC to +95ºC
Transparency
93%(MAX)
Reflectance
3%(MIN)
Interface
I²C
Applications
Car navigation equipment and central controls for vehicles
Production Capacity
100,000 units per month (6.5-inch models)
Inquiry
For more information, please contact the TP Division