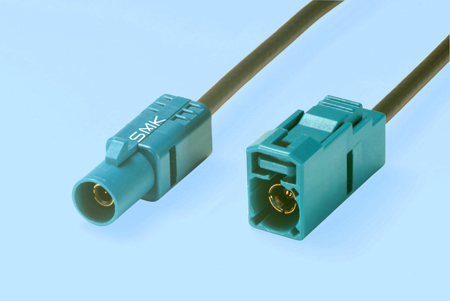 Development and Release of the "VC-2 Series"Molded Locking SMB Coaxial Connector for Automotive Equipment

We previously released our "VC Series (plug for PWBs)", a SMB coaxial connector with a molded locking provision for automotive equipment and this received a favorable response. We have now developed and started sales of our "VC-2 Series" for cable plugs and cable jacks.
Similar to the previous series, the "VC-2 Series" is an SMB (Sub Miniature Type B)-based coaxial connector employing a molded locking system for automotive coaxial connectors. The previous series is used to connect car navigation systems and GPS antennas, TV antennas and radio antennas, or for rear-camera connection. It is employed as the standard choice with European automakers and the market is expanding also in the U.S. By introducing this product, we hope to expand this market further.
We have succeeded in making a smaller product, something strongly desired by the market, and reducing the parts count contributes to improved assembly workability.
The compatible coaxial cable handles the equivalent of 1.5D (outer diameter: φ3.0mm)
Date Released
Nov. 08, 2011
Press Release No.
941cs
Product Name

"VC-2 Series" - molded locking SMB coaxial connector
Drawing No. CRC1001-52XXF(cable plug)
CRS9001-23XXF(cable jack)
Features
1) Complete connection is ensured by the push-on type molded locking system.
2) Covering a wide operating frequency range from DC to 4 GHz, it features highly matching and excellent high frequency properties.
3) The compatible cable is equivalent to 1.5D (outer diameter: φ3.0mm).
4) Reduces the parts counts, contributing to improved assembly workability.
5) RoHS compliant product.
Major specifications

Voltage and current rating
AC/DC 60V、1A
Frequency Range
DC~4GHz
Nominal Impedance
50Ω
VSWR
1.3max(DC~2GHz)、1.5max(2~4GHz)
Operating Temperature Range
-40℃~+105℃
Applications
Automotive equipment(car navigation, GPS, TV, radio, rear camera, car audio etc)
Production Capacity
600,000 units per month
Inquiry
For more information, please contact the CS Division.