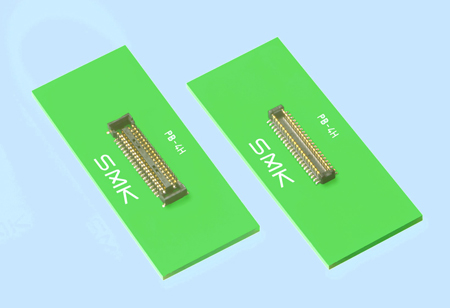 Development and Release of the "PB-4H Series"the Industry's Smallest Class Space-Saving 0.4mm Pitch Board-to-Board Connector
We are pleased to announce that we have developed and released the "PB-4H Series" 0.4mm pitch board-to-board connector for smartphones and mobile phones.
While this product boasts the industry's smallest class space-saving design, it secures a sufficient adsorption area and has a unique structure to support automated implementation.
Further, by using a common socket part and providing products with varying heights, the board pattern will be the same even if the mating height is different, contributing to greater design flexibility.
Our unique contact not only improves the feeling of insertion but also realizes low mating strength even with multiple poles, contributing to improved usability when assembling.
Date Released
Dec. 13, 2011
Press Release No.
944cs
Product Name

"PB-4H Series" 0.4mm pitch board-to-board connector
Drawing No. CPB03XX-0150F
Drawing No. CPB04XX-0150F/0250F/0350F
Features
1) Has a common socket part and supports mating heights of 1.0mm and 1.5mm.
2) At a width of 2.3mm it is a space-saving type that also provides an implementation and adsorption area to support automated implementation.
3) Its structure enables a strong feeling of insertion due to the locking structure in the contact.
4) Its structure has a low mating force even with multiple poles due to our unique locking mechanism.
5) Features a flux prevention mechanism.
6) RoHS compliant product.
Major specifications

Voltage and current rating
DC 50V、0,3A
Contact Resistance
Initially 30mΩ max..
Insulation resistance
100MΩmin.
Withstanding Voltage

AC100V 1minute later (However, there are no abnormalities,
such as an arc and dielectric breakdown)

Operating Temperature Range
-40℃ to +85℃
Applications
Smartphones, mobile phones, tablet PCs, other portable equipment
Production Capacity
4,000,000 units per month
Inquiry
For more information, please contact the CS Division.