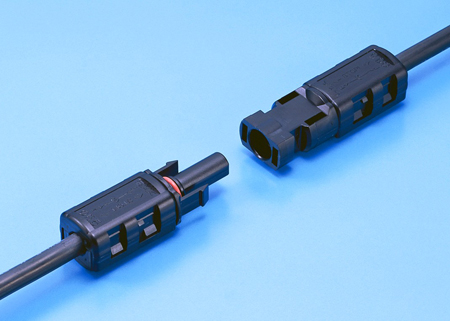 Development and Release of "PV-03 Series" Photovoltaic CellModule Connector for Photovoltaic Power Generation Systems

We are pleased to announce the development and release of a new addition to our highly-popular series of photovoltaic cell module connectors, the "PV-03 Series".
As a provider of a green energy source that places minimal burden on the environment, the photovoltaic power generation system market has enjoyed increased attention and worldwide demand in recent years. Since photovoltaic power generation systems connect multiple photovoltaic cell modules by cable, relay connectors are used to join the cables.
In line with increasing market needs, we developed and released the PV-01/PV-02 Series and then added the industry smallest, "PV-04 Series". We have further expanded our repertoire of products with the development of the de facto global "PV-03 Series".
This product achieves a significant space-saving with a volume of approximately 60% less than our standard "PV-01 Series". In addition, our unique waterproof structure ensures sound performance and the terminals maintain stable contact performance due to the multipoint contact structure.
This product has passed the TÜV (DIN-EN) and UL safety standards, so it is suitable for the European, U.S. and Japanese markets.
Date Released
Jan. 25, 2012
Press Release No.
946cs
Product Name

Connector for Photovoltaic Module "PV-03 Series"
Drawing No. CCT9901-23XXF(plug)
CCT9901-24XXF(socket)
Features
1)Ensures excellent contact performance due to its unique multipoint contact structure.
2) Its original waterproof structure enables cables to be easily treated for waterproofing without the use of specialized tools.
3) Has a large current capacity.
4) Uses materials with excellent weatherability and flame retardancy.
5) UL, TÜV (DIN-EN) recognized.
6) RoHS compliant product.
Major specifications

Voltage and Current Rating
600V/1000V 30A
Contact Resistance
5mΩ max.
Applicable Electrical Wire Size
AWG10 - AWG14(2mm² - 6mm²)
Operating Temperature Range
-40℃ to +90℃
IP Protection Class
IP67/IP2X(when mated)
Applications
Photovoltaic power generation systems
Production Capacity
1,500,000 units per month
Inquiry
For more information, please contact the CS Division.