SMKTOP
>
Press release list|April, 2011 ~
> Expansion of repertoire of standard high-speed transmission "EN Series" 0.3mm and 0.4mm pitch FPC connector products for smartphones and mobile terminals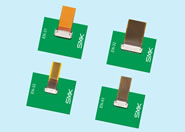 Expansion of repertoire of standard high-speed transmission "EN Series" 0.3mm and 0.4mm pitch FPC connector products for smartphones and mobile terminals

    
We are pleased to announce that we have expanded our repertoire of standard high-speed transmission "EN Series" 0.3mm and 0.4mm pitch FPC connector products for smartphones and mobile terminals.
In recent years, demand for high-speed transmission as well as fine-pitch, compact and low profile FPC connectors for internal connection has increased in line with the increased resolution and performance of mobile devices such as smartphones.
To respond to market demands, we have assembled a total of four high-speed transmission and shielded FPC connectors including the "EN-31/32/33" Series of 0.3mm pitch connectors and "EN-43 Series" of 0.4mm pitch FPC connectors.
These products all clear the "MIPI/D-PHY" standard of high-speed interfaces, contributing to the increased high-speed transmission and lower power consumption of mobile devices.
In addition, these connectors use a metal shield, ensuring not only high-speed transmission performance, but also enhanced shielding performance and durability as well as high contact reliability.
【Guide to FPC connector「EN series」Products】
| | | | | |
| --- | --- | --- | --- | --- |
| Series No. | EN-31 | EN-32 | EN-33 | EN-43 |
| External appearance | | | | |
| Pitch | 0.3mm | 0.3mm | 0.3mm | 0.4mm |
| Height | 1.25mm | 0.8mm | 0.6mm | 0.8mm |
| Length | 5.0mm | 4.0mm | 4.0mm | 4.0mm |
Date Released
2012/03/13
Release No.
949cs
Product Name
"EN-31/32/33 series" 0.3mm-pitch shielded FPC connector
"EN-43 series" 0.4mm-pitch shielded FPC connector
Features
1)The low profile of these products contributes to the increased thinness of devices.
2) The connector is covered with a metal shield, enhancing the grounding performance of the combined FPC and connector. (EMI prevention)
3) With its N-ZIF structure, FPC insertion is possible in one action.
4) A FPC retention lever is provided to secure the FPC.(FPC fall-out prevention mechanism) [Patented]
5) The contact area is located on the under side.
6) Supplied in embossed taping with an automatic mounter.
7) RoHS compliant product.
Major Specifications
Voltage and Current Rating
AC/DC 50V 0.3A
Contact Resistance
Initially 30mΩmax
Insulation Resistance
DC100V 100MΩmin
Withstanding Voltage
AV100V 1min
Operating Temperature Range
-40℃ to +85℃
Applications
Smartphones, mobile phones, wireless modules, communication cards
Inquiry
For more information, please contact the CS Division