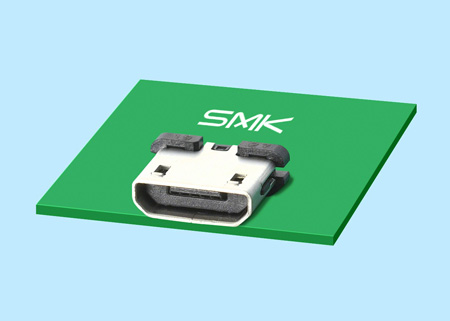 Development and Release of a "5P Interface Connector with Dust Cover" for Smartphones and Digital Cameras
We are pleased to announce that we have developed and released a "5P Interface Connector with Dust Cover".
This product enables mating compatibility with Micro USB plugs, which are increasingly being installed to connect smartphones and tablet PCs with digital cameras for connection and recharging purposes.
To meet market needs for devices with good design ability, we have developed a product that achieves a feeling of integration between device and connector by placing a dust cover in front of the connector. Attaching a dust cover also helps to prevent foreign matter and dust from getting inside the connector.
Although it has a unique shutter-attached structural design, this product has great versatility as a connector (patent applied for) that enables excellent device designability by allowing mating with Micro USB plugs.
Date Released
Jun. 28th, 2012
Press Release No.
959cs
Product Name
5P Interface Connector with Dust Cover
CSS5305-3A02F(receptacle)
Features

1) Helps device design ability by placing a dust cover in front of the connector.
2) Uses a half-lock system for receptacle and plug mating. Has a clicking sensation to improve operability.
3) Can be mated with Micro USB plugs.
4) Compact product with dimensions of 2.8mm (height), 8.5mm (width) and 7.5mm (length).
5) RoHS compliant product.
Major Specifications



Voltage and Current Rating
DC 5V,1.8A(Power supply)
DC 5V,1.0A(Signal sections)
Contact Resistance
30mΩ max., Initially
Insulation Resistance
DC 500V 1 minute later,1,000MΩmin
Withstanding Voltage
AC 500V(1min.)
(However, there are no abnormalities, such as an arc and dielectric breakdown)
Operating Temperature Range
-30℃ to +80℃
Operating Life
10,000 times
Applications
Smartphone , Digital camera etc
Production Capacity
1,000,000 units per month
Inquiry
* For more information, please contact the CS Division.