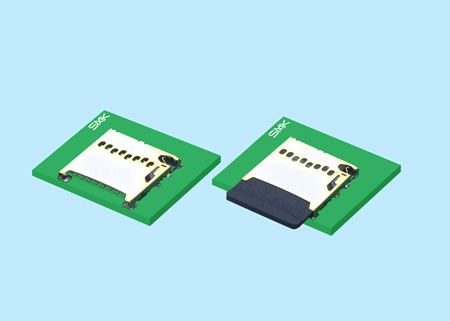 Development and Release of a Push-Pull Type micro SD™ Card Connector that Realizes the Industry's
Smallest Mounting Space

We are pleased to announce the development and release of a Push-Pull type micro SD™ Card Connector.
In line with the increased downsizing of portable devices such as smartphones and tablet PCs in recent years, there have been similar demands for the components installed in these devices. micro SD™ Cards are used in a wide variety of devices as an ultra-small memory card, and increased demand for these cards is expected in the future.
This product uses a one-piece molding structure made possible by our technical know-how, and achieves the industry's lowest profile with a mounting height of 1.32mm. It also realizes the industry's smallest mounting space with a width of 11.35mm and length of 11.25mm, contributing to the further downsizing of devices.
An easy-to-use push (lock) and pull (eject) system is used for card insertion/extraction.
We intend to further extend our repertoire of various small-sized memory card connectors in the future.
** Note ** micro SD™ is a trademark of the SD Association.
Date Released
Jul. 05, 2012
Press Release No.
960cs
Product Name

micro SD™ Card connector(Push-Pull type)
Drawing No.
CLE9108-2A90F
Features
1)A low profile and compact model with dimensions of 1.32mm (height); 11.35mm (width), and 11.25mm (length).
2) Uses push-pull card insertion/removal system.
3) Normal card insertion direction type.
4) Available with half-locking mechanism.
5) SMT-ready (surface mounting type) design.
6) A one-piece molding contact and housing structure that augments thinness and strength.
7) Handles automatic mounting by providing adsorption space.
8) RoHS compliant product.
9) Design is registered"Registration of designs No.1410073"
Major specifications

Voltage and current rating
DC 5V,0.5A
Contact Resistance
100mΩ max., Initially
Insulating Resistance
DC500V ,1,000MΩmix
Withstanding Voltage
AC 500V(1min.)
Operating Life
3,000 cycles
Operating Temperature Range
-25℃ to +65℃
Applications
Smartphone , Mobile phone, Tablet PC, Digital camera Other mobile devices
Production Capacity
1,400,000 units per month
Inquiry
For more information, please contact the CS Division.