SMKTOP
>
Press release list|April, 2013 ~
> Development of LT-12/LT-13 Series of LED Lighting Connector (COB Type) with Improved Assembly Workability and Reliability to Add to our Existing Product Lineup
Development of LT-12/LT-13 Series of LED Lighting Connector (COB Type) with Improved Assembly Workability and Reliability to Add to our Existing Product Lineup

     
 We are pleased to announce that we have developed and released the 'Chip On Board' (COB Type) LT-12/LT-13 Series of LED lighting connectors. We have also increased the number of LED compliant with the LT-10/LT-11 Series released in March last year, increasing our lineup of products.
 Due to SMK's unique structure, this connector has excellent heat dissipation qualities, which is essential to deliver superior LED performance. An LED is inserted between the connector's upper and bottom covers, and is fixed with a screw to the heat sink. This structure not only achieves a stable dissipation effect, it also helps to improve assembly workability and reliability. (Patent pending)
 In addition, in compliance with the Electrical Appliance and Material Safety Act and JIS IEC etc., sufficient creepage distance is secured to ensure high reliability and withstand voltage.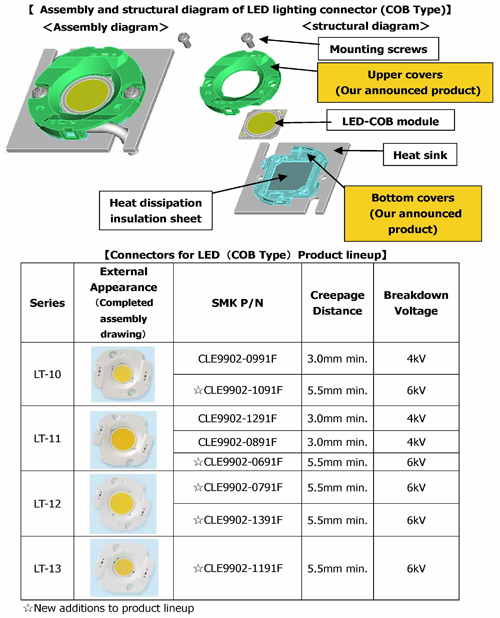 Date Released
2014/01/10
Release No.
1000cs
Product Name
Connectors for LED-COB Module 「LT-10/11/12/13 Series」
Features

1) Its structure is composed of upper and bottom covers within which a COB type LED is inserted.
2) LED heat is dissipated to the heat sink by the thermal conducting sheet inserted in the lower cover.
3) When installing the LED there is no need for preceding processes such as applying heat conduction grease or attaching an insulation sheet, helping to improve assembly workability and reliability.
4) Secures a spacious creepage distance series connection for multiple LEDs in series and as a countermeasure to lightning surge.
5) The power supply section uses a snap-in contact to realize easy and secure electric wire connection.
6) Complies with JIS/IEC standards and the Electrical Appliance and Material Safety Law.
Major Specifications

Voltage and Current Rating

AC/DC 250V 2A

Operating Temperature Range
-40℃~+105℃
Contact Resistance
30mΩmax., initially
Insulation Resistance
1,000MΩmin (DC500V)
Withstanding Voltage
AC/DC500V (1minute)                 
Breakdown Voltage[Reference Value]

4KV(Creepage distance of 3.0mm or more)
6KV(Creepage distance of 5.5mm or more)

Applicable Electric Wire
AWG18 to 20 solid wire or soldered stranded wire.
Jacket diameter: φ3.7mm or less
(Duplex coating electric wires supported)

※Please contact us for detail about compliant LED.

Applications
Facilities lighting such as illumination for high ceilings as well as all kinds of
outdoor lighting equipment such as road lights, street lights and stadium lights that make use of COB type LEDs. 
Inquiry
For more information, please contact the CS Division