SMK has been supplying a variety of RF modules such as Bluetooth® modules. Lately, we are focusing on LPWA (Low Power Wide Area) network which is known as the standard for IoT communication.
This page explains LPWA and other RF communication modules.
What is LPWA? ※Low Power Wide Area (Network)
LPWA is a term that refers to low power consumption and wide range of communication networks.
It attracts attention as one of the communication standards for IoT.
It is especially suitable for wide area data collection and analysis which does not require continuous transmission; and is possible at low cost.
【Features】
・
Low power consumption
(battery lifetime of several years)
・
Long distance communication
(from several hundreds meters to several kilometers)
・
Low cost operation
(inexpensive communication frequency fee)
・
Low data rate and low data volume communication
==================Example of network structure ==================

Use case of LPWA
LPWA is suitable for many different use-cases and industries.
Usage of LPWA depends on the business need and application.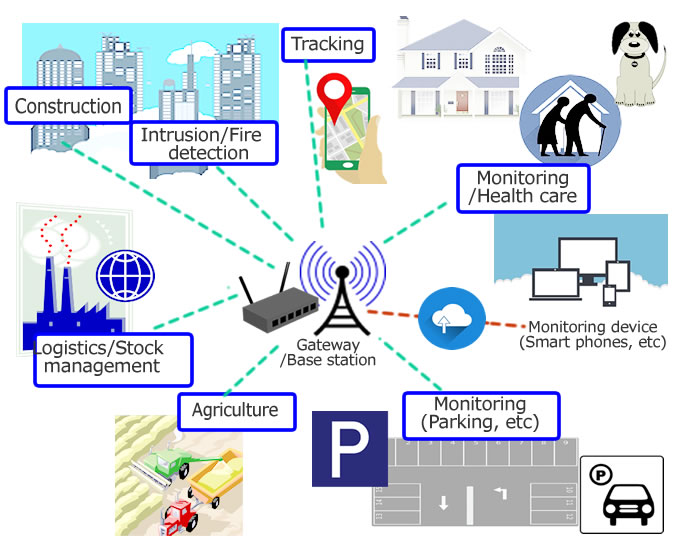 Map of each standards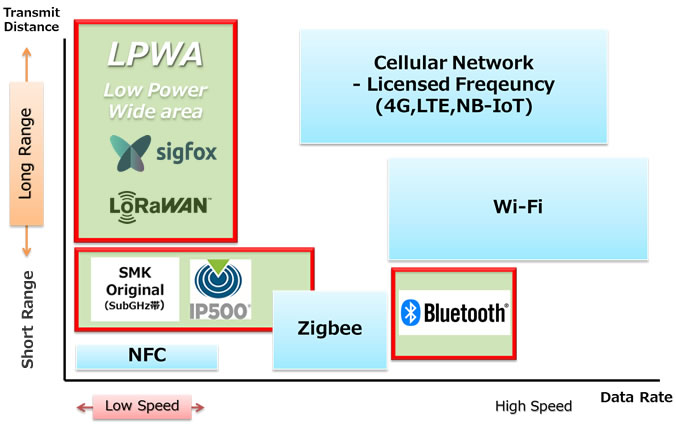 Application Examples of LPWA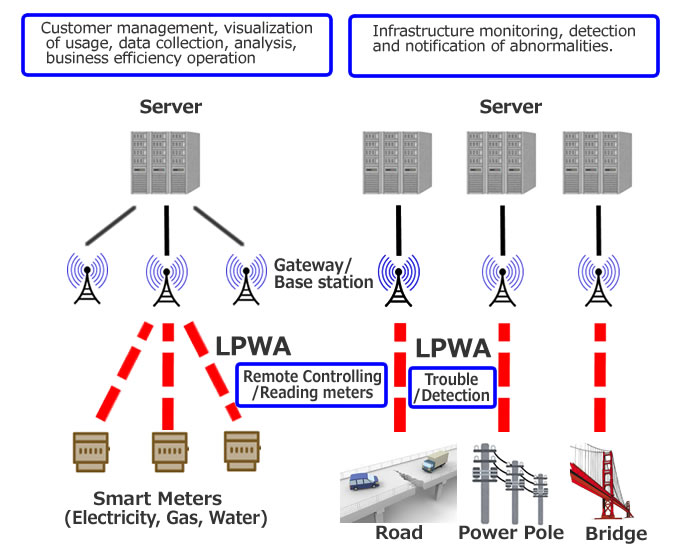 SMK's current & future product lines
Standard



Original



※~Ver.5.1
Frequency Band
SubGHz
※In Japan:920MHz
SubGHz
※In Japan:920MHz
SubGHz
※In Japan:920MHz
SubGHz
※In Japan:920MHz
/2.4GHz
2.4GHz
Transmit
Distance
(Reference)
~10km
~several km
~1km
~500 m
~50m
Transmit
Rate
~100bps
~250bps
~625bps
~400kbps
~2Mbps
SMK
Development
Status※
♦Under MP
・WF923
♦Under Dev.

・WF923G
・WF931
♦Under Dev.






♦Under Dev.
WF924





♦Under Dev.
CNX200M





♦Under MP
・BTS01
・BTS04
・BT401
・BTS05



Available
Countries
Japan
Japan
Japan
Japan/U.S./Europe
Japan/U.S./Europe
※Please contact us if you have any questions or need more information.
   If you do not know PIC for sales please contact from Here.