【Important Notice to Users】
Please be sure to read.
(1) Products carried in this catalog are designed and produced for use in electronic or other equipment such as mobile phones, PCs, home appliance, and digital still cameras.
(2) Use of them in applications, such as medical life support system, space or aviation equipment, disaster-/crimepreventive equipment and the like, where safety and reliability of a higher level are essential, shall be the responsibility of the manufacturers of such equipment, subject to sufficient consideration and verification of adequacy of such products for each particular application. It is strongly recommended that manufacturers of equipment, whatever the application, ensure safety by providing a protective or redundant circuit of their own design, and verify its safety effectiveness, whenever equipment requires safety of a higher level. Not withstanding our taking all possible measures for maintaining quality of switches, failure modes may exhibit a slight chance of occurrence of change (increase) in contact resistance, short or open circuit, or temperature rise. Consideration to ensured safety, such as provision of fail-safe features, on occasions where a switch has failed, is of vital importance.
(3) Do not attempt to wash the switch. They are not of air tight and water-proof design. Switches must be of a moisture-resistant or washable type of use is planned to occur in moist environments or is subject to postsoldering washing of PCBs.
(4) They are not of air tight design. Dust-resistant switches must be the only choice for dust-prone environments.
(5) Switch contacts are usually made of silver or are silver-plated. Silver or silver-plating readily forms sulfured film when exposed to sulfur gas, resulting in development of poor contacting performance. If the following application conditions are going to be the case, use of switches featuring gold-plated contacts and airtight design is recommended, subject to consultation with us.
①Conditions where sulfur gas is constantly present, such as sulfuric hot springs.
②Use is planned for places where automotive exhaust gas is always present.
※③Where activation takes place extremely seldom (something like once a year), load current is as subtle as less than 1mA, yet a highest level of reliability is required such as semi-fixed switches and circuit check switches.
※ True to many types of switches is that switching action, in a sense, scrapes surfaces of contacts and causes a fresh surface to be created for integrity of contact. Contacts of seldom-activated switches may be covered with a sulfured film, needing several activations before stable contact is ensured. Operating conditions of this type are likely to be a source of failure or malfunctioning of switches, without regard to type of plating. It is strongly recommended that we be contacted for advice for measures to be taken when such conditions are expected of switches.
(6) Products should be stored in room environments in a factory-sealed package as delivered. Storage of unpacked products must be given protective measures for moisture and gases by placing them in an airtight sealed plastic bag. Switches are to be stored in room conditions for use within 6 months of storage. Switches stored for longer than 6 months must be subject to verification of solderability and electrical performance (especially, contact resistance). Solderability of switches is dependent on storage environment, and deterioration can occur due to sulfidization or oxidization of silver-plated terminals. For planned extended periods of storage, switches must be put in an airtight sealed plastic bag for subsequent transfer to a dark and cold place, to prevent their solderability from being deteriorated due to development of film on the terminals.
(7) The storage temperature range of emboss tape packaging is –20 degrees to 50 degrees.
(8) When this witch is used by the minute electric current of the micro ampere, please actually mount, and do the operation confirmation.
(9) The switch will be broken, if you give larger stress than specified. Take care not to let the switch be given large stress than specified. For specified load, please contact us.
(10) Please avoid the switch's return force to return other mechanisms in use.
(11) When using a normal switch, please push the switch vertically and straight forwardly. Please do not use them by pushing at it from an angle.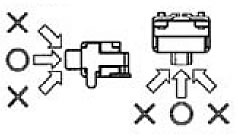 (12) Soldering of the switch referees to requirements of soldering condition of this document. Verify acceptability of soldered switch with production equipment and PCB.
(13) In case of re-flow soldering, as the conditions sometimes vary depending on the kind of soldering equipment or PCB's material, thickness or location of the parts on it etc, please make sure of the suitable soldering condition before production use.
(14) Use of water-soluble soldering flux shall be avoided because it may cause corrosion of the switch.
(15) Dimensions and specifications given in this catalog are for major items only. For details, please refer to individual drawings and specifications, which are available upon request. Prior to commencement of deliveries, our relevant delivery specifications need to be mutually agreed upon in writing.
(16) Specifications are subject to change without prior notice for improvement in quality or products.
(17) For more information about products found in this catalog, please contact our nearest sales representative.