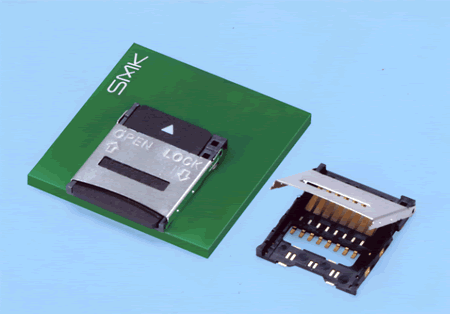 Industry's smallest class
microSDTM card connector (hinge type) developed
We are pleased to announce the development and the commencement of shipment of a microSDTM card connector (hinge type).

The microSDTM card has attracted attention as an ultra small memory card. The demand for the product is expected to increase for applications in portable equipment such as mobile phones and DSCs, which have grown smaller, thinner, and more functional in recent years.

In order to respond to strong market requirements for smaller and lower-profile design, we have developed the industry's smallest class product measuring 1.5 mm high above the PWB surface when mounted, 12.6 mm wide and 14.5 mm deep. The product comprises a one-piece molded contact and housing structure, and our exclusive metal shield cover structure. This PWB occupancy area saving product will provide equipment designers with ever smaller and thinner equipment design possibilities.

The card insertion/removal system is of a hinge type made possible through a rotating and sliding metal shield cover. A small space is sufficient for card operation, providing freedom in equipment designing.

The metal shield cover has a unique structure for grounding the cover at 4 points while being locked. Despite the small and thin connector design, the connector is robust, and has a high shielding performance.

Note) microSDTM is a trade name of SD Association.
Date Released
May 26, 2008
Press Release No.
823cs
Product Name
microSDTM card connector (hinge type)
Drawing
No. CLE9108-5990F
Features

1) Super low 1.5 mm profile above the PWB surface when mounted.
2) 12.6 mm wide and 14.5 mm deep space saving design.
3) Hinge type card insertion/removal system.
4) Resistant to noise due to grounding of the metal shield cover at 4 points while being locked.
5) A metal shield cover designed to ensure a clicking sensation at every sliding position for better connector operability.
6) SMT (surface mounting) designed.
7) Automatically mountable due to the suction space provided.
8) RoHS Directive compliant.

Applications
Portable equipment including mobile phones and DSCs
Major specifications
Voltage and Current Rating
0.5A, 36V AC/DC
Contact Resistance
100mΩ max.
Insulation Resistance
1000MΩmin.
Withstanding Voltage
500V AC for one minute
Operating Life
3,000 cycles
Market introduction
July 2008
Production capacity
1,000,000 units/month
Inquiry
* Please contact CS Division for further information
Fax : 81-3-3785-0517