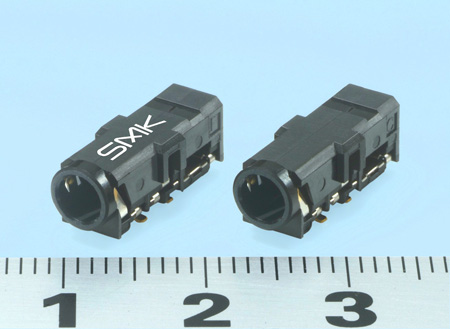 Contributes to smaller equipments, "Φ3.5mm Mini Jacks (Spring Terminal)" developed and marketed

We are pleased to announce the development and commencement of marketing of a "Φ 3.5mm mini jacks (spring terminal)".
In recent years, with the smaller portable equipment such as mobile phones and portable audio players becoming smaller, thinner and multi-functional, the requirements for smaller, thinner and high density mountability for the parts have also increased. The Φ3.5mm jack is used on many types of equipment such as the connection between the body and headphone/microphone and its demand is increasing.
This new product responds to such demand of the market, and has realized a product width of 5mm (16.7% reduction from our previous equivalents, 6mm) for a 4-pole type. This product is saves space on the PWB and has high density mountability; and therefore, contributes to further smaller and thinner equipments.
For the mountability to the PWB, a spring terminal system which is to form the terminal into spring-shape is employed and when incorporating into the set equipment, it is structured to push the terminal to the PWB. By connecting to the PWB without using solders, this new product is responds to solder-free and cares for the environment.
Date Released
Nov. 11, 2009
Press Release No.
876cs
Product Name
Φ3.5mm mini jacks (spring terminal)
Drawing Nos.
LGY3209-0400F
Features

1) The width of 5mm is realized by adopting our unique new spring structure and is saves space on the mounting area (16.7% reduction from our previous equivalents, 6mm).
2) The mountability to the PWB is a spring terminal and responds to solder-free.
3) A 4-pole type with 1 switch function. In addition to audio L/R and GND, it is possible to connect one more signal.
4) The sleeve make-switch system which uses the plug is employed for plug detection, and by the self-cleaning effect, the contact reliability has improved.
5) RoHS Directive Compliant

Major specifications




Ratings
1A, 12V DC
Contact Resistance
30m ohms max., 1-100mA
Insulating Resistance
100M ohms min., 500V DC
Withstanding Voltage
500V AC/minute
Operating Life
5,000 cycles
Applications
Mobile phones, portable audio, Smart Phones, other portable AV equipments.
Market Introduction
November 2009.
Inquiry
* For more information, please contact the CS Division:
TEL: 81-3-3785-1176.