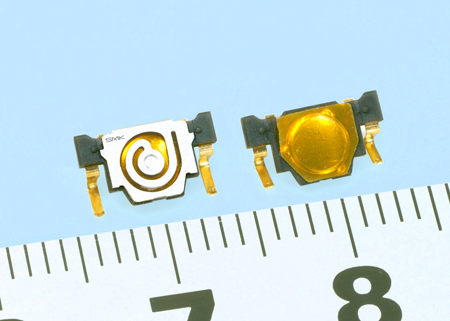 Expansion of Repertoire of Standard "1-Dome Switches" with the Addition of a Coverless Type Switch


     
In response to market needs, we are pleased to announce that we have added a "coverless type" product to our repertoire of standard "1-dome switches", which have been selling well in the smartphone market, in order to further improve sales.
In recent years, there has been increased demand for smaller and thinner electronic components in line with the increased compactness and thinness of equipment. The higher reliability of switches is particularly sought after, such as preventing switches from becoming detached from the PWB caused by equipment being dropped when assembling or using it.
While the 1-dome switches we have already promoted responded to the above mentioned market needs, this product further contains mounting height by employing a coverless structure.
This product will be exhibited at the combined IT and electronics "CEATEC Japan 2010" exhibition held from 5th October, after which we will proceed with full-scale sales activities.
Repertoire of Standard 1-Dome Switch Products

** Note ** The No.2 product is the new addition to our product repertoire
| | | |
| --- | --- | --- |
|   No         |    1         |   2           |
| Appearance | | |
| Type |   Solder-free |   Coverless |
Date Released
2010/09/30
Release No.
902fc
Product Name
1-dome switch (coverless type)
Features
1)Mounting strength is increased and equipment reliability is improved due to the employment of a "spring contact system" whereby this switch, which is fixed on the housing, can be press-mounted on a PWB when installing it in equipment.
2) The enhanced thinness and lightness of equipment is possible with this coverless type.
3) Solder-free mounting on equipment contributes to the protection of the environment.
Major Specifications
Rating 
DC12V 10mA
Operation Force
1.7N±0.6N 
2.5N±0.8N
Operation Stroke
0.18mm±0.1mm
External Dimensions
8mm(W)×0.9mm(D)×4.5mm(H)
Applications
Mobile phones, portable digital audio devices, IC recorders, and other portable equipment
Production Capacity 
30,000,000 units per month (January, 2011)
Inquiry
For more information, please contact the FC Division.