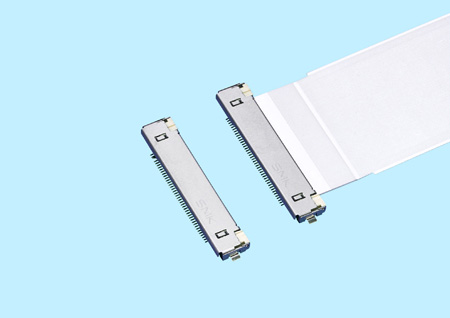 Development and Launch of the High-Speed Transmission "EN-5D Series" Shielded FFC Connector

We are pleased to announce the development and launch of the "EN-5D Series" 0.5 mm-pitch shielded FFC connector which supports high speed transmission.
With its N-ZIF structure, FFC insertion is possible in one action with his product. Its FFC fall-out prevention mechanism ensures greater operability and reliability.
Demand for internal connection connectors that support high-speed transmission signals has increased in recent years in line with the move towards higher image quality and higher performance of digital appliances such as flat panel displays (LCD/PDP).
This product is a shielded FFC 0.5mm-pitch connector using FFC for high-speed signal connection, and adapts to high-speed serial transmission such as LVDS and TMDS (HDMI).
Impedance matching is simple because shielded FFC is used and signal and ground layers are provided in the compatible cable. Further, the contact shape of the signal transmission area is optimized for high-speed transmission line specifications, enabling impedance matching by setting a dedicated ground terminal.
Note) FFC - Flexible Flat Cable
LVDS - Low Voltage Differential Signaling
TMDS - Transition Minimized Differential Signaling
HDMI- High-Definition Multimedia Interface
Date Released
FEB,28th 2011
Press Release No.
912cs
Product Name
EN-5D Series 0.5mm Pitch FFC Connector
Drawing No. CFF97xx-0101F
Features

1) Adapts to high-speed serial transmission such as LVDS and TMDS (HDMI).
2) Matches 100Ω differential impedance.
3) The connector is covered with a metal shield, enhancing the grounding performance with this combined FFC and connector. (EMI prevention)
4) Contacts are located on the bottom of the connector.
5) The applicable FFC enhances grounding performance by using an untrimmed shape and a shielded FFC with matched impedance.
6) With its N-ZIF structure, FFC insertion is possible in one action.
7) FFC insertion confirmation and fall-out prevention mechanisms are included.
8) The product lineup includes right-angle and 41/51 pin models.
9) Supplied in embossed taping with an automatic mounter.
10) RoHS compliant product.
Major Specifications
Voltage and current rating
0.5A, 50V, AC/DC
Contact resistance
30mΩ max.
Insulation resistance
2 mA typ.
Withstanding voltage
AC100V (1 min)
Operating Temperature Range
-40ºC to +85ºC
Applications
AV equipment, automotive equipment, and office equipment.
Production capacity
1,000,000 units per month
Inquiry
* Please contact CS Division for further information.