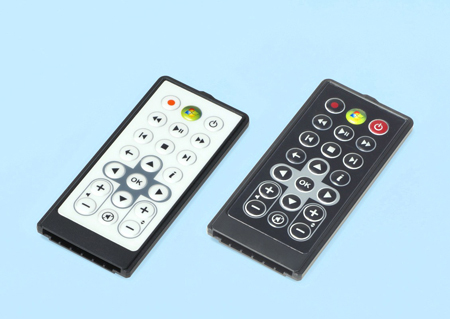 Development of a Remote Control for the New Express Card Slot

We are pleased to announce the development of the SMK standard type "SSR-CARD PC21" card-style remote control which can be embedded (or installed) in personal computers. We have now started shipping samples of this product.
In line with the spread of mobile computers in recent years, people are increasingly watching DVDS and listening to music when they are on the move, leading to greater demand for compact remote controls to operate such equipment.
To meet such needs, we have developed a card-sized remote control called the "Remote Control for the new ExpressCard Slot".
This product is a 21-key remote control compatible with 34mm ExpressCard (**Note 1) slots.
Compared to the "SSR-CARD PC23" (54mm card slot / 23-key type) already in-production, this new product achieves enhanced thinness and miniaturization. It is a highly portable and easy-to-carry remote control that can be stored in notebook computer ExpressCard slots.
With the addition of this new product we have expanded our line of card-style remote controls, and we have now started to work towards expanding sales (shipping samples), focusing on the notebook computer market.
In addition, this product is installed with SMK's "Quatro Pulse" (**Note 2) IR protocol – a protocol endorsed by Microsoft for use with personal computers installed with Windows® 7.

**** Technical Terms ****
(Note 1)
ExpressCard: An expansion card standard for notebook computers formulated in September, 2003 by the Personal Computer Memory Card International Association (PCMCIA); a US industry group established by over 500 computer-related companies in June, 1989. The ExpressCard standard specifies two form factors – "ExpressCard/34" (34mm wide; 5mm thick; and 75mm long) and "Express Card/54" (same dimensions but 54mm wide).
(Note 2)
Quatro Pulse: A transmission protocol developed exclusively by SMK. Its strengths include being able to carry two bits of information per pulse, realizing a faster communication speed than standard remote control formats. Other merits include its high resistance to static noise, low power consumption, and capacity to submit vast amounts of data, making it highly compatible with a wide range of devices.

Date Released
Apr. 27, 2010
Press Release No.
891fc
Product Name
Remote Control for new the ExpressCard Slot (SSR-CARD PC21)
Features

1) Can be stored in notebook computer ExpressCard slots, making it easy to take anywhere with a notebook computer.
2) In addition to Windows

®

7 machines, it is compatible with a wide range of personal computer environments.
Major specifications




External dimensions 
34mm(W) X 75mm(D) X 4.9mm(H)
Power source
DC3V (CR2016 button cells)
Number of keys
21 keys
Compatible slot
EXPRESS CARD /34
Applications
Notebook computers and PC peripheral equipment installed with ExpressCard slots.
Mass Production
From April, 2010 (scheduled) / Start accepting orders from March, 2010
Inquiry
* For more information, please contact the FC Division